Welcome to the Norwood iCatalog® personalization tool!
Add your logo and contact information to our online iCatalogs! Brand them as your own and add them to your website, marketing material, proposals, post them to your social media sites and more! (And, yes, they are mobile friendly!). Please read our Community Guidelines and do not use logos and copyrighted material that does not belong to you on your custom catalogs!
Catalogs

Norwood 2014
Norwood Promotional Products, a wholly-owned subsidiary of BIC USA, Inc., is one of the leading suppliers of imprinted promotional products. Together, Norwood & BIC® Graphic have been named the number one supplier in North America, offering the most comprehensive product assortment with the widest variety of decoration methods. Norwood offers a wide range of products in the industry and is well known for proprietary brands such as Atchison® bags, KOOZIE®, Jaffa®, and a broad range of exclusive partner brands.
Personalize

Norwood by BIC Graphic New Products 2014
Over 300 New Products! BIC offers simple, inventive and reliable choices for everyone, everywhere, everytime. There is Free 24 Hour Service on many products; Exclusive Designs; Free Setups; britePix capabilities on over 160 products and more!
Personalize

Norwood Calendars 2015
Triumph and Good Value Calendars allow you to accessorize calendars with Any One Color! Create ads that WOW! Full color imprint at lower pricing. Check out the Endless Possibilities and Lasting Impressions with our new calendar products in this 2015 catalog.
Personalize
+4
Flyers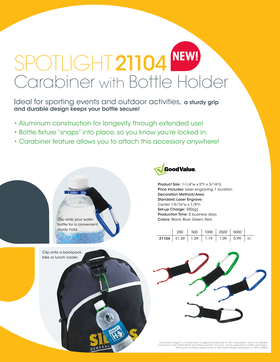 Carabiner with Bottle Holder
Carabiner with Bottle Holder
Personalize